Life is busy.
In our complex world, we frequently find ourselves rushing from task to task, frantically trying to complete our to-do list against the clock. Our yoga practice – usually a sanctuary that helps us to find a place of poise and equanimity – can feel like one more item on our agenda. Taking time for self-care and a practice may feel overwhelming.
It's time to embrace the micropractice.
The micropractice is an invitation to bring yoga "snacks" into your day so that your practice can become a consistent and nourishing part of your lifestyle, supporting you on the go as you move through your day.
Here are some examples:
Have 30 seconds at a traffic light? It's time for deep, mindful breathing with even inhales and exhales.

Waiting at home for a call back? Try 2 minutes of lunges and a warrior 2.

Feeling sluggish? Try one minute of kapalabhati and a 30 second plank.

Been working at a desk? Do a one-minute downward facing dog.

Stressed? Try 2 minutes of nadi shodhana kapalabhati.
By embracing the micropractice, we do a few things:
We bring more purpose and mindfulness into our day,

We take accountability for our mental, emotional, and physical state,

We empower ourselves to interrupt potentially non-optimal routines,

We use our practice to cultivate a more integrated, healthy mind-body state that can help us be more present, connected, and easeful.   
By integrating bite-sized yoga moments into our days, our practice can become a powerful tool for intentionally navigating the flow of our lives. Rather than being isolated to our mat, our practice becomes a companion and support for living our lives more intentionally and compassionately.
In our DoYogaWithMe challenge, "Embrace the Micropractice," you'll gain access to a series or mini asana and pranayama practices that can inspire your life and fit into any schedule. Give it a try, and find out for yourself and small acts can transform your world.
Recommended Practices & Events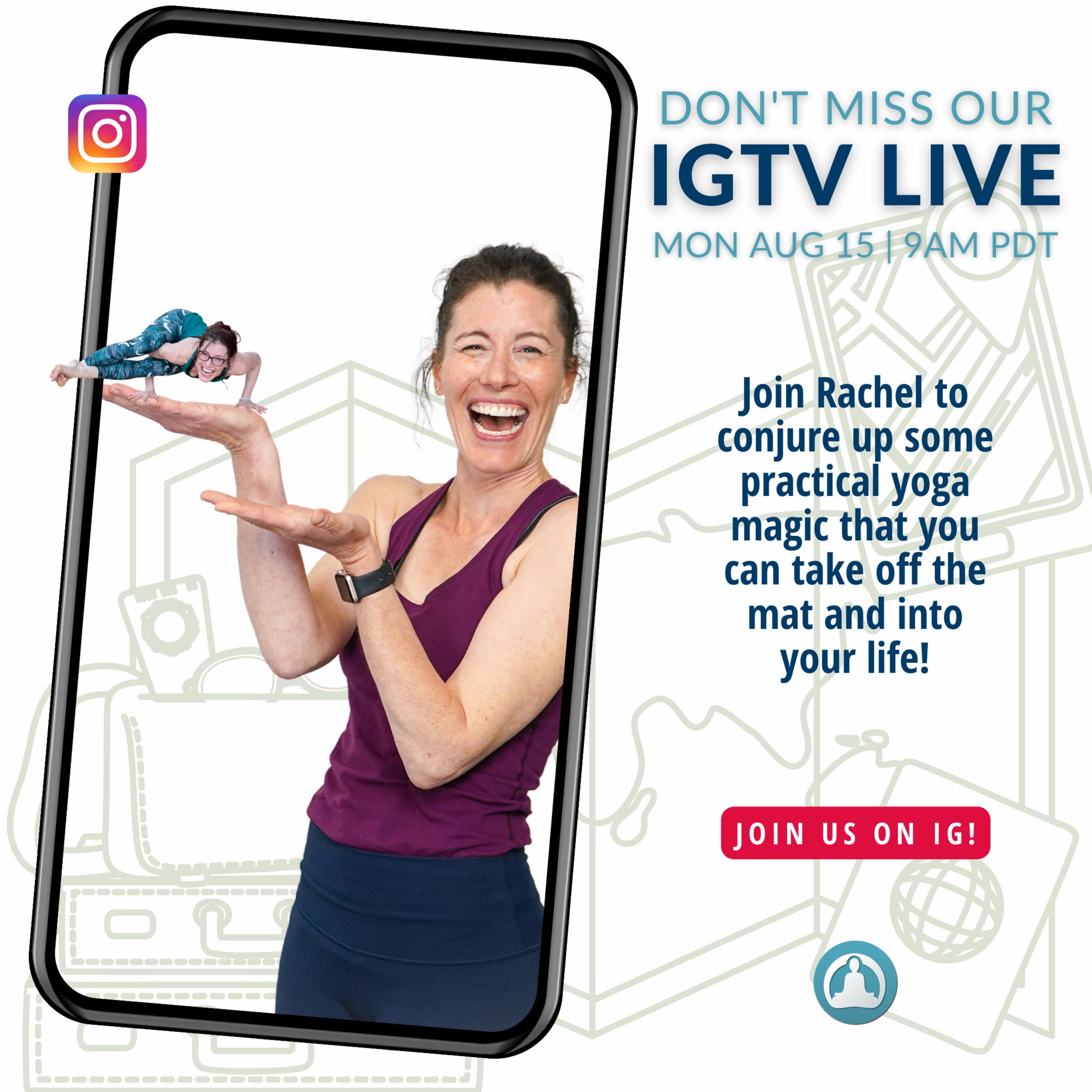 Livestream Discussion w/ Rachel
Rachel is on Instagram Live on Monday, August 15th at 9am PDT for a livestream on this month's theme of Yoga on the Go. 
Embrace the Micropractice
14-Day Beginner Challenge | Begins August 24th
This is a 14-Day Micropractice Challenge that ANYONE can do! These sweet little 2-10 minute practices can fit into anyone's day. Life can be overwhelming; your yoga practice doesn't need to be. Find out how small little daily acts can create big transformations.
Embrace the Micropractice: Living Off Your Mat
A Livestream Practice with Rachel Scott | September 10th
In this workshop, we will build upon the micropractice experience and explore other tools from the yoga tradition that you can use to integrate your yoga practice into your daily life.
We will move beyond the asana practice and explore how yoga philosophy (The Yoga Sutras and The Bhagavad Gita) offers us practical tools and solutions for living our best lives, one moment at a time.
Get inspired with some practical yoga magic that you can take off the mat and into your life
Sangha Session
Join the Sangha Session (Community Conversation) in the forum: "How can you (or do you) use your yoga practice to support your life off that mat?"
How do you stay in the loop about our monthly themes? The best way is to subscribe to our weekly newsletter, On the Mat. We will also make announcements through our Instagram and Facebook pages.