Retreat Location:
Chacala, Nayarit, Mexico
Engage your mind, body and spirit on a relaxed yoga retreat ​this winter in Mexico! Join Melissa Krieger for a peaceful week-long retreat at Mar De Jade.
Start Date:

Saturday, January 14, 2023
End Date:

Saturday, January 21, 2023
Venue:
Mar de Jade Retreats and Wellness Resort
Instructors:
What You'll Experience
To book your accommodation, go here. Three meals per day are included in the price.
Engage your mind, body and spirit on a relaxed yoga retreat ​this winter in Mexico! ​​Join Melissa Krieger for a peaceful week-long retreat at Mar De Jade, a world class retreat center on the pacific coast of Mexico. This retreat includes twice daily yoga classes, three delicious meals a day, beautiful accommodation and lots of downtime. It is perfect for anyone who wants to hit pause on the stressors of daily life. ​​This retreat is an opportunity to slow down and connect with yourself and the natural beauty of Mexico.
The yoga classes will be gentle to moderate level with lots of options to explore. There will be two classes on every full retreat day, one class will be a bit spicier, the other will be more gentle. You'll experience different styles of yoga such as Flow, Bedtime, Gentle, Restorative and Yoga4Strength (Melissa's signature class!). ​
Melissa believes taking a break from our busy lives to rest and reset is essential. She is so excited to take care of you for the week!​ ​​This slow paced week long yoga vacation will leave you feeling present, grounded and grateful.
Retreat Schedule
Meal Times
Saturday
Sunday
Monday
Tuesday
Wednesday
Thursday
Friday
Saturday
08:30 am - 09:30 am
Breakfast / Leave Mar de Jade
Instructors
Book Your Spot
Book your spot in two easy steps:
Click the 'Register Now' button to pay the DoYogaWithMe Retreat Fee.
Click the link under 'What You'll Experience' to choose your accommodation. Three meals per day are included in the price.
The Venue
Mar de Jade has been home to hundreds of retreats over the past 35 years. The resort has a supportive, warm feel, allowing participants to rest, feel at ease and enjoy the benefits that come from being on a retreat. You will have access to four gorgeous yoga spaces, all with hardwood floors, ocean views and full of lovely, natural light.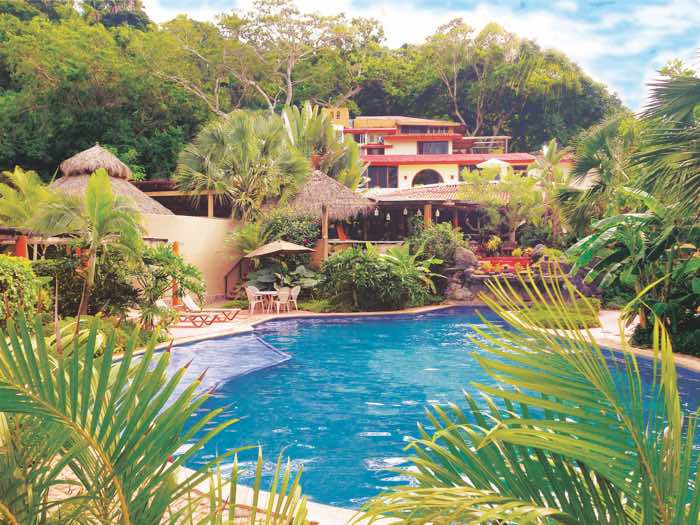 Take a dip in the swimming pool, wading pool, jacuzzi or wander the paths lining their tropical hotel grounds. Take a walk down Chacala beach, one of the most beautiful, tranquil beaches on the lush Riviera Nayarit coastline or visit the small, charming Mexican fishing village right next door.
Mar de Jade, snuggled between jungle and ocean, is far more than your average wellness resort. Founder Dr. Laura del Valle came to Chacala over thirty years ago to bring healthcare to the local community, and the home she built for her family and visiting medical students slowly evolved into the Mar de Jade we see today. Now offering a hotel, bar, pool, full treatment spa, stunning studio spaces, and excursions and activities, Mar de Jade retains its intimate family feel and community connection.
Three generations of del Valles now call the resort home, and the medical clinic established by Laura in the 80's has evolved into MDJ Community Projects, a non-profit running local education and health programs and an organic farm that produces most of the tasty fare enjoyed by resort guests. This non-profit gets its funding from guests like you, so when you're kicked back on the beach or sweating it out in the studio, you can feel good both in body and in mind. Mar de Jade is a resort of rare beauty with heart and soul to match.
What better place to host a yoga retreat? For more information: https://mardejade.com/experience/
Food
Three times a day, Mar de Jade's talented chefs prepare gorgeous buffet meals using ingredients from the resort's organic farm. Traditional Mexican cuisine inspired dishes incorporate a variety of healthy vegetarian, vegan, gluten free, pescatarian, and poultry options, and the chefs are happy to tailor to specific dietary needs or allergies. Sorry carnivores but red meat is never served! Between meals, you'll have access to a snack bar stocked with fresh fruit, coffee, tea, bread, and delicacies like homemade organic peanut butter and marmalade. Stations throughout the grounds provide purified fresh water to keep you hydrated between practice sessions! For more information: https://mardejade.com/experience/food-and-farm/
Accommodations
Mar de Jade offers accommodation to suit an array of styles and budgets. Choose to look out over the Pacific, or into the lush green of the forest canopy. Sleep the whole family in multibed apartments, share a room with a friend, cozy up with a loved one, or take some time and space all to yourself. No matter your choice, your room will come with unique and tasteful décor, exposed wood finishes, and plenty of natural lighting. Rooms at Mar de Jade are sanctuaries within a sanctuary: places to unwind, reflect, and recharge.
Directions
Mar de Jade is a 90 minute drive north of Puerto Vallarta International Airport on Highway 200. This distance can be covered via rental car or bus, but the resort recommends taking a taxi and is happy to arrange one for you.
For more information, visit https://mardejade.com/about/faq/ and scroll down to GETTING THERE AND AWAY.
Costs
While this retreat is all-inclusive, you are responsible for booking your own flight and accommodation. Tuition is booked separately. Accommodation includes your room and meals and can be booked through Mar De Jade and tuition paid to doyogawithme.com. Airport transfers can be arranged with Mar De Jade for a fee, depending on the number of passengers. Tuition and accommodation are charged in US dollars.
Questions? Comment below or send us a message through our Contact Us page.
Cancellations
For your retreat fee, DoYogaWithMe's cancellation policy is:
100% refund for cancellation 90+ days before event.
50% refund for cancellation 60+ days before event.
No refund for cancellation 0-59 days before event.
For your accommodation and food, go to Mar de Jade's FAQs and click on Booking and Cancellation Policy.
Start Date:

Saturday, January 14, 2023
End Date:

Saturday, January 21, 2023