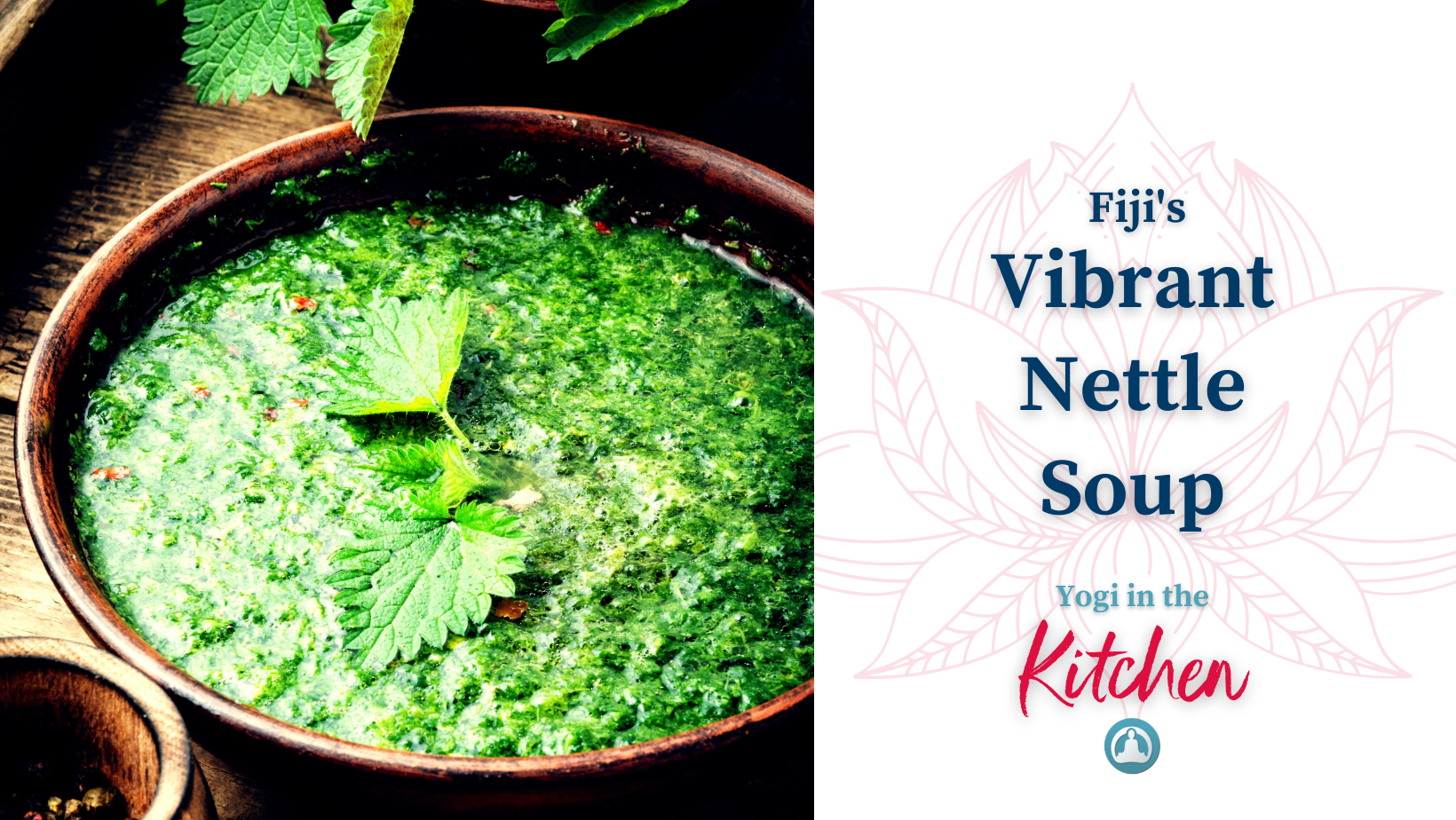 It is always an exciting time of year when Nettles pop up in early spring and are ready to be harvested.  This is a very nourishing soup that is also so tied to the land and the shift of season into Spring Fire.
INGREDIENTS
2-4 cups of fresh nettle leaves, roughly chopped

4 medium-sized white potatoes, diced OR 1 cauliflower head if preferred

1 -2 carrots, diced

2 leeks, chopped fine

4-6 shallots, peeled and chopped fine

1-2 garlic cloves if desired

2 Tbsp fresh sage leaves, chopped fine

1 tsp fresh thyme leaves, chopped fine

1 litre bone broth or veggie stock

2-3 Tbsp olive oil or ghee

Salt and pepper to taste
PREPARATION
Sauté onions, garlic, and herbs in oil until soft. Add the potatoes/cauliflower and carrot and continue to sauté for another 5-7 minutes. Add nettles and stock, bring to a low boil, turn down and simmer for about one hour or until well cooked.

Transfer to a heatproof blender and blend until smooth. Or, you can use an immersion blender. Garnish as desired (I like to add toasted pumpkin seeds!), serve hot and enjoy! This soup is very versatile so don't be afraid to play with the ingredients and ratios to find your favourite version.
---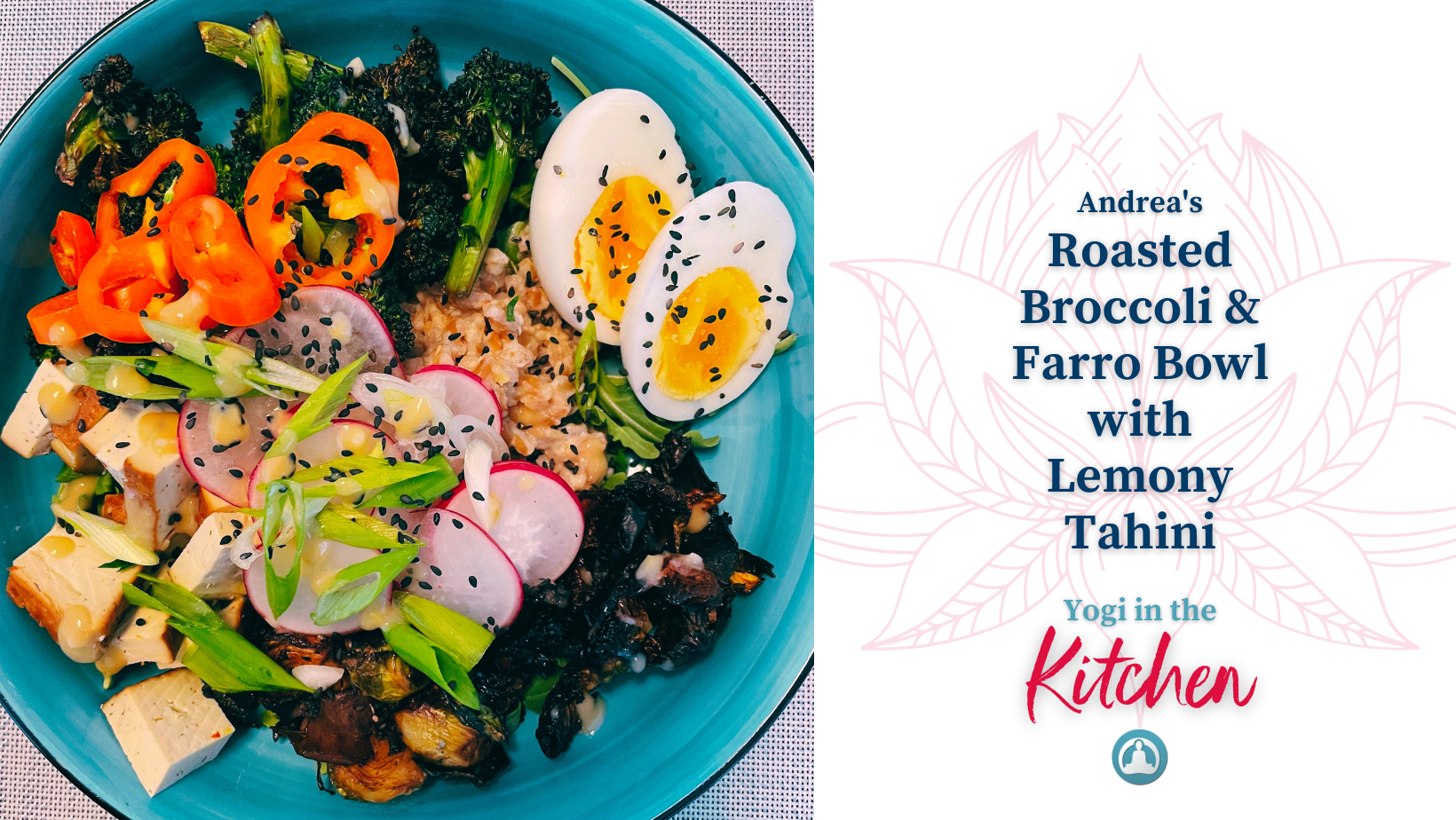 I cannot claim this nourishing and delicious veggie bowl as my own - I adapted it from Melissa Clark's recipe, whom I follow avidly on NYTimes Cooking. But I love to be inspired, and then add a few twists of my own. My secret shortcut these days is my treasured air fryer, which cuts roasting time in half (and clean-up time even more so!). I have also finally nailed down a methodology for making the perfect jammy medium-boiled egg. I also recommend riffing on whatever veggies you have in your crisper - asparagus, snap peas, brussel sprouts are all fantastic additions or substitutes.
INGREDIENTS: GRAIN BOWL
 Kosher salt

1 ½ cups farro, rinsed and drained

4 large eggs 

1 package smoked tofu or tempeh, cubed into bite-sized pieces

1 large head broccoli, cut into bite-sized florets 

2 tablespoons extra-virgin olive oil

1 teaspoon soy sauce or tamari

2 tablespoons toasted sesame oil

1 tablespoon sesame seeds

 Thinly sliced radishes -

watermelon radishes if you can find them! So beautiful!

4 cups washed baby spinach

1 scallion, thinly sliced

 Hot sauce or thinly sliced green chiles, for serving (optional)
INGREDIENTS: DRESSING
2 ½ Tablespoons fresh lemon juice, plus more for serving

1 garlic clove, finely grated or minced

¼ teaspoon kosher salt, plus more as needed

⅓ cup extra-virgin olive oil, plus more as needed

3 Tablespoons tahini
PREPARATION
Bring a medium pot of salted water to a boil. Add farro and cook until tender, about 25 minutes. You are cooking this grain like you would pasta.

As farro cooks, prepare the dressing: In a medium bowl, whisk together lemon juice, garlic and 1/4 teaspoon salt. Let sit for 1 minute, then whisk in oil, a few drops at a time, until emulsified. Whisk in tahini and set aside.

In a separate pot, bring water to a boil. Carefully lower eggs in and cook for 7 minutes for medium-runny - jammy but whites are cooked. Use a slotted spoon to transfer eggs to a bowl of cold water. Let them sit for 2 minutes, then crack and carefully peel the eggs.

Drain and rinse farro under room temperature water. Toss with 5 to 6 tablespoons tahini dressing to taste, a large pinch of salt and a drizzle of olive oil. Taste, and add salt and olive oil if needed. 

Broil or air fry the broccoli:





Broil

: Position the rack underneath your broiler so that it's at least 4 inches away from the heating element; heat the broiler. On a rimmed baking sheet, toss broccoli with olive oil and soy sauce, then spread the pieces out into an even layer. Broil until slightly charred in spots, 2 to 5 minutes, watching closely so that it doesn't burn all over (a few burned spots are O.K.).





Air fryer:

Prepare florets as above. Set temperature to 400, and timer for 3 minutes. Toss, and reset for another 3 minutes.

Let cool slightly, then toss with sesame oil and sesame seeds and cover to keep warm.


 

Layer bottom of 4 individual bowls with about 1 cup of baby spinach leaves.

To serve, layer farro over spinach. Top with radishes, and sprinkle them with lemon juice and salt. Add broccoli, egg, tofu/tempeh to the bowl and garnish with sliced scallions and more sesame. Drizzle remaining dressing on top. Serve immediately, with soy sauce, hot sauce, and-or sliced chiles on the side if you like.

---

 
This recipe is very dear to my heart.
I developed and perfected it while I lived in Saudi Arabia as a way to remind me of the raw chocolate balls I used to buy in Vancouver after many a yoga practice. I also ended up making them in mass quantities and selling them on the compound where we lived as they were such a hit!
Gluten, dairy, egg and nut free!
They're delicious to eat straight out of the freezer or the fridge.
INGREDIENTS
1 1/2 cups organic coconut flakes

3/4 cup fair trade cocoa

1/4 cup local raw honey

1/4 cup maple syrup

2.5tbsp melted coconut oil

1 tsp Himalayan salt
PREPARATION
Mix all ingredients together and make into balls. Freeze for half an hour or more to harden and then enjoy!
Makes approx 12-14 1" balls.