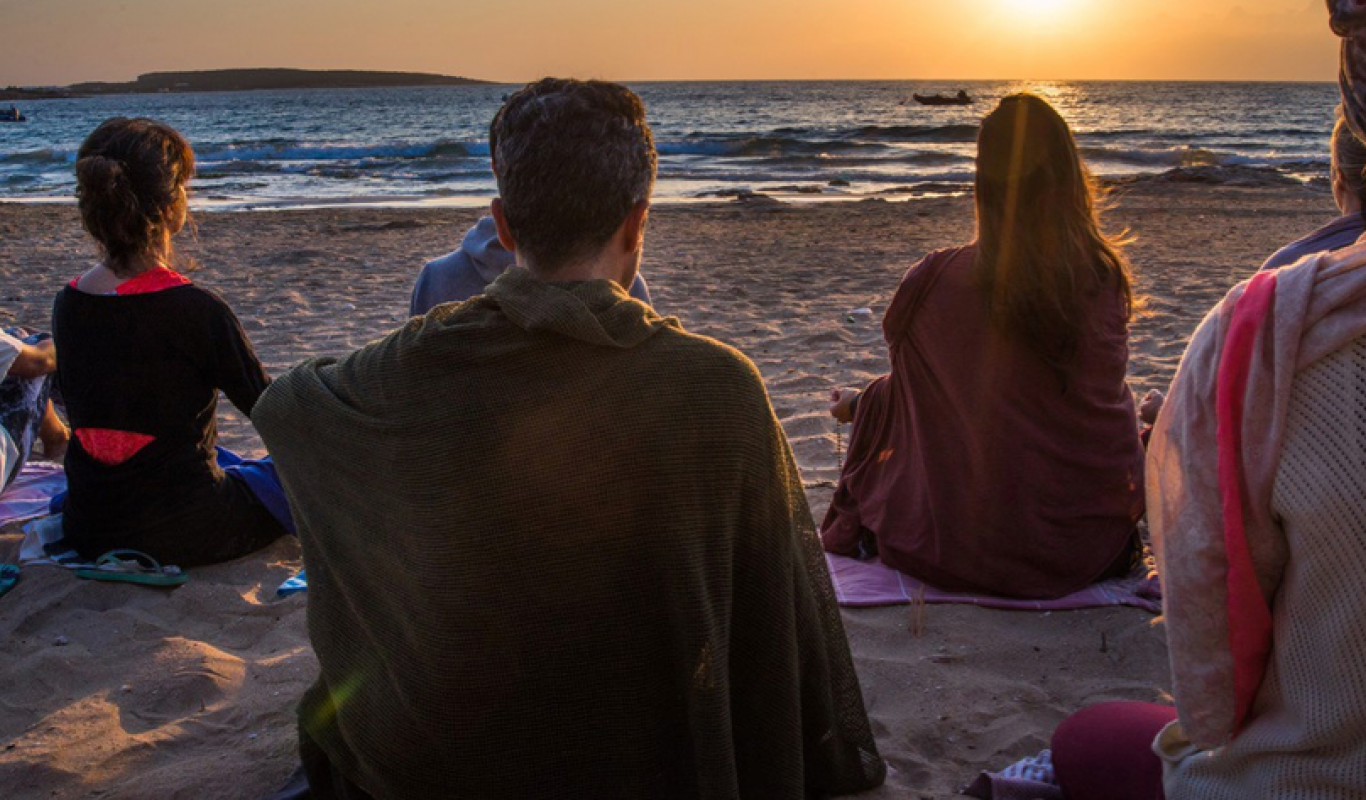 Retreat Location:
Santa Maria, Paros, Greece
Take a  journey with Tracey at the beautiful OkreBlue Retreat Center on the Greek island of Paros, located right next to a stunning beach.
Start Date:

Saturday, September 21, 2019
End Date:

Saturday, September 28, 2019
Venue:
Okreblue Seaside Resort
Instructors:
What You'll Experience
That's right! If you register before August 25th we'll take care of the workshop registration fee for a guest of your choosing! Email us at [email protected] if you have any questions.
Take a  journey with Tracey at the beautiful OkreBlue Retreat Center on the Greek island of Paros, located right next to a stunning beach. In this retreat she calls 'Revive', she will help you access your truest nature, a feeling that has no attachment. THIS is where magic happens - the energy, the prana, the breath and something indescribable… something we do not know yet. How do we trust enough in simply being, rather than doing? How do we allow ourselves to simply feel instead of thinking?
Unearth these mysteries by exploring the energy that you carry with you every day. Bring awareness to the obstacles that you create so that you can chisel them away and let them go. What remains is crystal clear waters, restoration, relaxation and bliss. We will practice twice daily in an outdoor shala right beside the beautiful, quiet beach of Flilizi, mixing devotional movement with meditation and pranayama. Join Tracey to feel transformed and refreshed.
Retreat Schedule
Instructors
Book Your Spot
You will need to reserve your spot in the retreat and book your accommodations separately.
To reserve your spot in the retreat, click on the 'Reserve Your Spot' button above.
To book your accommodations at OkreBlue Resort, contact Ada at reservations(at)okreblue.com. 
They will request a 30% non refundable deposit.
The Venue
Located on the idyllic Greek island of Paros, Okreblue has been home to hundreds of yoga retreats over the last ten years. With beautiful beaches, crystal waters, and lovely studios and accomodations, Okreblue manages to feel like an escape and a home away from home all at the same time. It's a perfect place to centre yourself and unwind. This is why we chose it for our Revive 2019 Yoga Retreat, which also happens to be our very first retreat in Europe!
Okreblue has been a decade-long labour of love for its owners, Sassy and Angelo, who have gradually expanded what was a small seaside hotel into the multi-building, eco-friendly complex seen today. Now with two large studio spaces, an assortment of accomodations, an organic garden, available massage and reiki treatments, and Caretta Healthy Restaurant & Café, Okreblue has acquired the amenities of a world-class retreat while retaining its natural, homespun feel.
Between yoga sessions, you can stroll down to the beach through fragrant cedar trees and rolling sand dunes, dip in the fabled Aegean, rent a bike to visit a nearby historic site, or simply lounge on a shaded terrace with a cold drink and enjoy the view of the sea. There really are not any bad options, which is maybe why so many of Okreblue visitors keep coming back for more year after year after year. Visit Okreblue's About Us page to learn more, or check out this great YouTube video of the retreat.
Food
Okreblue's restaurant, the Caretta Healthy Restaurant and Cafe, serves retreat-goers three delicious buffet-style vegetarian meals daily. Meals incorporate organic vegetables grown on-site and local ingredients sourced from across the island. The chef, Suresh, specializes in Mediterranean-Indian fusion cuisine, and is happy to make accommodations for a variety of diets, including gluten and dairy free. Savor his renowned rich breakfasts (think yogurt and organic honey!), cold plates, gluten-free breads, and vegetarian or vegan desserts. Carretta Restaurant and Cafe is open all day, so you can always drop in and order from the menu if you happen to get peckish between meals! Visit Okreblue's Food page to learn more.
Accommodations
Okreblue offers accommodation to suit an array of styles and budgets. Opt for an affordable EcoBlue room made from eco-friendly materials, cosy up with a loved one in a Levante room with a private verandah, or choose from one of several larger rooms with kitchenettes and plenty of space to sleep parties of up to four. Many of the rooms have ocean views and, no matter what you choose, you'll get plenty of natural light, tasteful and timeless decor, wi-fi access, and all the modern amenities. Visit Okreblue's Accommodation page to learn more.
Directions
Flights are available from Athens International Airport to Paros, but they tend to fill up fast, so be sure to book in well in advance. You can book tickets with Aegean Air. There is also the option of booking a flight to the nearby island of Mykonos, and then taking a ferry to Paros.
Ferries depart to Paros from Athens' Piraeus Port, which is accessible from the Athens International Airport by bus, metro, or taxi. Blue Star Ferries and Hellenic Seaways both offer regular services to Paros from Piraeus. Ferries also run to Paros from another Athenian port, Rafina, but service is more irregular and fluctuates with seasonal demand.
If you are arriving in Paros by boat you will dock at Parikia. From there, you can take a bus to Naousa and then a taxi to Okreblue. You could also just taxi direct to Okreblue from Parikia. If you arrive on Paros by plane, you can take a bus or taxi from Paros Airport to Parikia and then follow the directions above, or taxi directly to Okreblue from the airport.
Okreblue is happy to help arrange for taxis to pick you up at any location on Paros. To access this service, or to learn more about travelling to and from the retreat, contact Okreblue directly here.
Taxi transfer from the port is 32€. If more than 3-4 people arrive at the same time, OkreBlue can arrange a bus and the price is 10€ per person.
 Taxi transfer from the airport is 45€. If more than 3-4 people arrive at the same time at the airport, OkreBlue will arrange a bus and the price is 15€ per person.
 Transfers are paid for in cash directly to the taxi driver.
Costs
While this retreat is all-inclusive, you are responsible for booking your own flight and accommodation. Tuition is booked separately. Accommodation includes your room and the meals listed above and can be booked through OkreBlue and tuition paid to doyogawithme.com. Tuition is charged in US dollars and accommodation is charged in Euros.
Questions? Comment below or send us a message through our Contact Us page.
Cancellations
DoYogaWithMe's cancellation policy (for your retreat fee) is:
100% refund for cancellation 30+ days before event.
50% refund for cancellation 15-29 days before event.
No refund for cancellation 0-14 days before event.
OkreBlue will request 30% of your accommodation costs as a nonrefundable deposit. The remaining balance is due upon arrival.
Start Date:

Saturday, September 21, 2019
End Date:

Saturday, September 28, 2019