Retreat Location:
Chacala, Nayarit, Mexico
Join Tracey for 7 days of total bliss, rooted in meditation, pranayama and soulful flows.
Start Date:

Saturday, March 28, 2020
End Date:

Saturday, April 4, 2020
Venue:
Mar de Jade Retreats and Wellness Resort
Instructors:
What You'll Experience
Please note this retreat has been cancelled due to the COVID-19.
However, our Early Bird price for the Heart and Soul 2021 retreat is available until Sept 30th.
Stepping away from our responsibilities and complications of modern day living allows us to find breath, perspective and freedom in ourselves. This makes our heart sing, and our soul come alive in different ways creating a foundation for both a relaxing and awakening experience.
Join Tracey for 7 days of total bliss, rooted in meditation, pranayama and soulful flows.  She'll take you on a journey through inquiry, both physically and mentally inspiring you to find joy and re-awaken the playfulness between your head and your heart. Meditation and mindfulness will be explored with deep respect to self love, and looking inward.  While pranayama and sequenced asana will build upon your inner strength, letting go of the struggle and flowing with a sense of ease.   Bring your enthusiasm, your smile and your desire to have fun on and off your mat!
This retreat is for all levels but will also have challenging vinyasa flow classes.
Instructors
Tracey is light, fun, humorous, and passionately dedicated to the teaching of yoga. She brings in everyday life, speaks from her heart and inspires her students long after they leave the mat. Tracey offers public and private classes to all ages, creatively sequenced workshops, teacher trainings, on-line classes, personal training sessions, and mentorship for yogi graduates. Tracey has a passion for youth, teaching mindfulness and body awareness in classrooms around the city. She offers group sessions for many high profile businesses and she hosts events with local DJ's to bring a fun, and creative element into the space. Tracey was named the "Most Distinguished Teacher" at the 2017 Victoria Yoga Conference and sat on the selection committee for 2018. She is a graduate of McMaster University with a Physical Education Degree. She offers over 25 years experience in health and fitness, over 4000 hours teaching yoga, an E-RYT 500 hour and ACE Personal Trainer Certifications. She is based out of beautiful Victoria, British Columbia, has a love for life, her children, her partner, her dog, travel and study. Tracey loves teaching ~ moving bodies, inspiring minds and is beyond grateful for the life she lives!
Book Your Spot
Book your spot in two easy steps:
Click the 'Register Now' button to pay the DoYogaWithMe Retreat Fee.
Click the link under 'What You'll Experience' to choose your accommodation. Three meals per day are included in the price.
The Venue
Mar de Jade has been home to hundreds of retreats over the past 35 years. The resort has a supportive, warm feel, allowing participants to rest, feel at ease and enjoy the benefits that come from being on a retreat. You will have access to four gorgeous yoga spaces, all with hardwood floors, ocean views and full of lovely, natural light.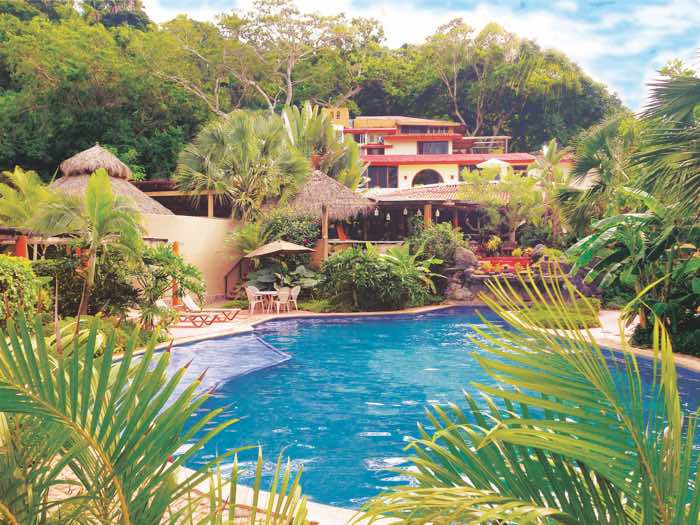 Take a dip in the swimming pool, wading pool, jacuzzi or wander the paths lining their tropical hotel grounds. Take a walk down Chacala beach, one of the most beautiful, tranquil beaches on the lush Riviera Nayarit coastline or visit the small, charming Mexican fishing village right next door.
Mar de Jade, snuggled between jungle and ocean, is far more than your average wellness resort. Founder Dr. Laura del Valle came to Chacala over thirty years ago to bring healthcare to the local community, and the home she built for her family and visiting medical students slowly evolved into the Mar de Jade we see today. Now offering a hotel, bar, pool, full treatment spa, stunning studio spaces, and excursions and activities, Mar de Jade retains its intimate family feel and community connection.
Three generations of del Valles now call the resort home, and the medical clinic established by Laura in the 80's has evolved into MDJ Community Projects, a non-profit running local education and health programs and an organic farm that produces most of the tasty fare enjoyed by resort guests. This non-profit gets its funding from guests like you, so when you're kicked back on the beach or sweating it out in the studio, you can feel good both in body and in mind. Mar de Jade is a resort of rare beauty with heart and soul to match.
What better place to host a yoga retreat? For more information: https://mardejade.com/experience/
Food
Three times a day, Mar de Jade's talented chefs prepare gorgeous buffet meals using ingredients from the resort's organic farm. Traditional Mexican cuisine inspired dishes incorporate a variety of healthy vegetarian, vegan, gluten free, pescatarian, and poultry options, and the chefs are happy to tailor to specific dietary needs or allergies. Sorry carnivores but red meat is never served! Between meals, you'll have access to a snack bar stocked with fresh fruit, coffee, tea, bread, and delicacies like homemade organic peanut butter and marmalade. Stations throughout the grounds provide purified fresh water to keep you hydrated between practice sessions! For more information: https://mardejade.com/experience/food-and-farm/
Directions
Mar de Jade is a 90 minute drive north of Puerto Vallarta International Airport on Highway 200. This distance can be covered via rental car or bus, but the resort recommends taking a taxi and is happy to arrange one for you.
For more information, visit https://mardejade.com/about/faq/ and scroll down to GETTING THERE AND AWAY.
Costs
While this retreat is all-inclusive, you are responsible for booking your own flight and accommodation. Tuition is booked separately. Accommodation includes your room and meals and can be booked through Mar De Jade and tuition paid to doyogawithme.com. Airport transfers can be arranged with Mar De Jade for a fee, depending on the number of passengers. Tuition and accommodation are charged in US dollars.
Questions? Comment below or send us a message through our Contact Us page.
Cancellations
For your retreat fee, DoYogaWithMe's cancellation policy is:
100% refund for cancellation 90+ days before event.
50% refund for cancellation 60+ days before event.
No refund for cancellation 0-59 days before event.
For your accommodation and food, go to Mar de Jade's FAQs and click on Booking and Cancellation Policy.
Testimonials
Start Date:

Saturday, March 28, 2020
End Date:

Saturday, April 4, 2020